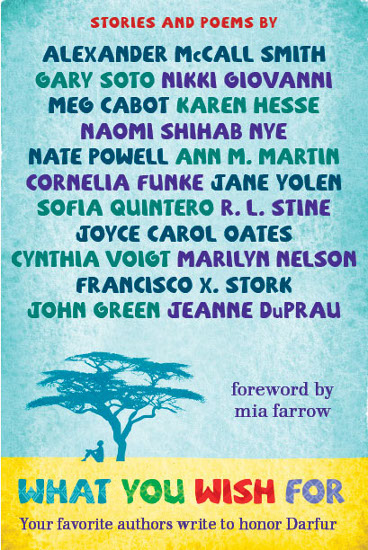 I have to tell you about a GREAT way to spend $20. A friend of mine from our Friends of the Library group was reading a front page story in the Washington Post a few years ago that was about some of the refugees in Darfur.
Instead of saying, "that's too bad, somebody ought to do something," and turning the page, she looked at her son and said, "we need to do something." That was the birth of Bookwish Foundation. They started a non-profit foundation dedicated to getting at the root of problems in that part of the world. They believe that literacy changes lives, so they started figuring out how to get books and libraries and reading glasses and pencils and pens and paper ... you get the picture ... all those things to the refugees in the camps on the border of Chad.
And wow, things really started to move. Now they're launching a book, What You Wish For: A Book For Darfur

,

an unforgettable and inspiring exploration of wishes by some of the top writers for youth today, with a Foreword by Darfur advocate Mia Farrow.
1. Pre-Order a book
(great holiday gifts so feel
free to order 6 or 7)
2. Give $20 and have your name
included
IN the book!
(I won't tell anyone if you want to start saying you were
"published alongside" Alexander McCall Smith!)
The books are only $17.99 (full price) each,
so $20 will get you a book
OR your name in it.
or how about both?
How about instead of
going out to dinner
one night this week,
you spend the $40 this way???